For Volunteers
STEP 1
Download App
Search for 'Zeles VMS' in your App Store or Google Play Store, or click below to download it. 
STEP 2
Getting Started
Option 1: Select 'Explore as Guest' to start browsing without registering!

Once you are ready to register, tap the side menu (3 horizontal lines on the top left-hand corner) and select 'Logout'

Select the "Sign Up" button at the bottom to register.

Ensure that the email address entered is valid as it will be used as your login ID. 

Mandatory fields: Salutation, Name, Year of Birth, Education, Mobile No.
STEP 3
Follow & Join your VHO
Tap the side menu (3 horizontal lines on the top left-hand corner)

Select 'Non-Profits/VHOs' 

Select the VWO/VHO logo that you are volunteering for. 

Start by tapping on the "Follow" button, followed by tapping on the "Join" button again to receive the notifications on news and activities of the VWO/VHO.
STEP 4
Registering for Activities
Option 1: Select 'Activities' to see the list of activities posted by a VWO/VHO. 

Option 2: Select 'What's New' under 'My Dashboard' to see a list of recent activities posted by all organisations.

Select 'Sign up' to register for the Activity.

Depending on the nature of the activity, you will be assigned as a Member/ Skilled volunteer/ General volunteer/ Attendant
STEP 5
Record your Attendance
On the day of the Activity, select 'Enter Activity Code' to clock your attendance.

For some Activities, you may be required to enter other additional information such as Attended Date, Attended Time, Attended Hrs Spent and Remarks. 

If you are unable to attend the Activity, select 'Disenroll' from the Activity before the actual day of the Activity.
STEP 6
View your Volunteering Activities
Select 'My Info' followed by 'Activity History' to see the list of Activities attended.

View Total Volunteering House under 'My Dashboard'

Select 'Statistics' for data analytics on the hours clocked and Activities participated, in comparison with others within the same age group, gender and educational background.
STEP 7
Redeem and Collect your Rewards
Receive VoPoints as you clock your volunteering activities.

Redeem rewards from the list of available rewards with VoPoints.

Collect the reward items/services at the retail outlets (If vouchers are issued, they will be mailed to you).

VoPoints can also be donated to a VHO of your choice
For Organisations
Contact us to apply for a new Zeles account for your organisation! 
Zeles will provide training on the following:
Volunteer management using the app. 

Create activities for your volunteers to be involved in. 

Generate reports and download the information to better understand your volunteers.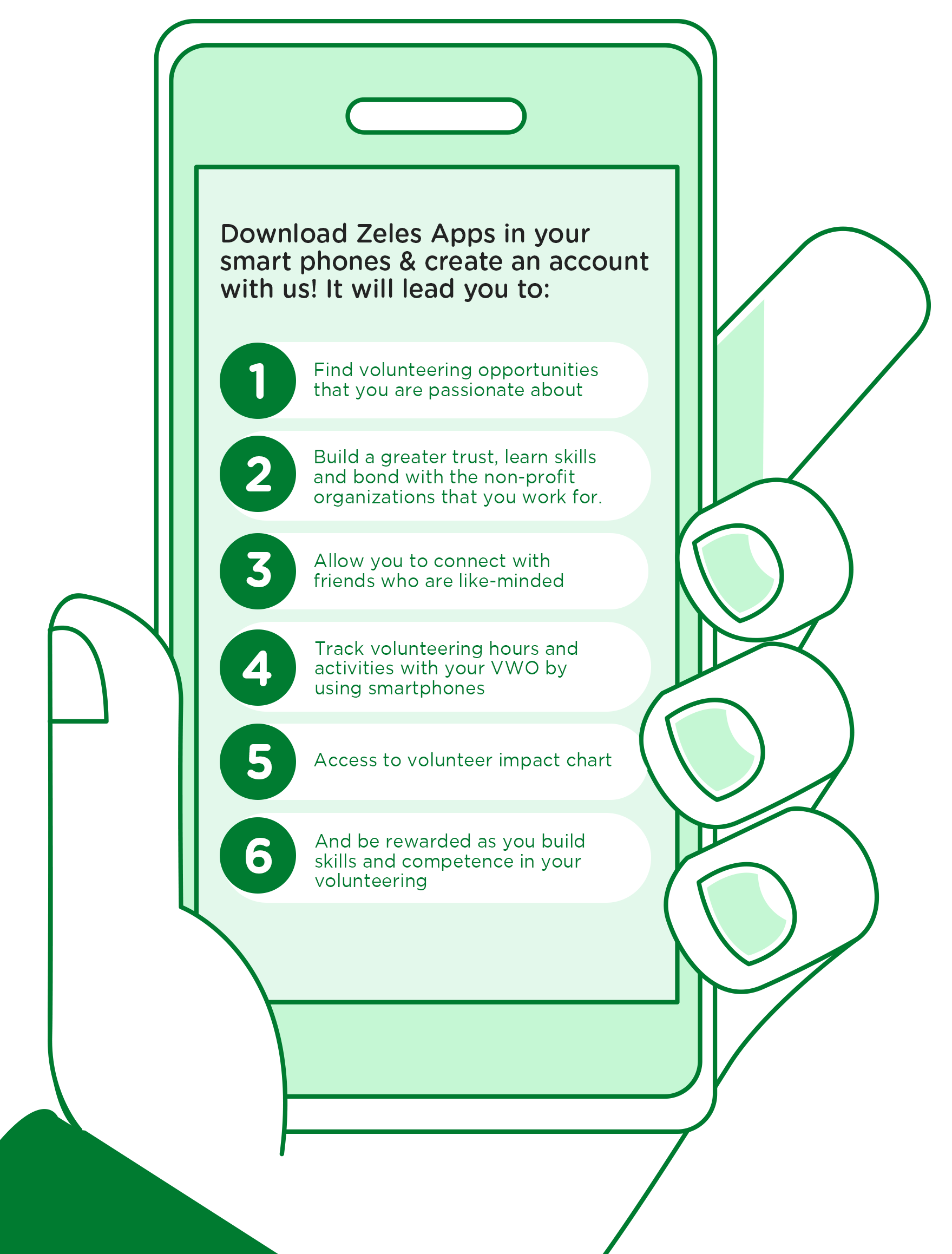 Personal Data Protection
Zeles is committed to adhering to the requirements of the Personal Data Protection Act. Information provided by users on the Zeles VMS app are managed based on the following principles:
Volunteer organisations can only obtain the user's information with the user's consent, which is given at the point of the user signing up for a volunteering activity
Obtained information can only be accessed by authorised account administrators
Information accessed can only be used for the purpose of assessing the user's eligibility and contacting the user for the volunteering activity
Users are able to browse through the Zeles VMS app as a "guest" before signing up for volunteering activities. This means that they do not have to provide any information until they wish to sign up for a specific volunteering activity.
Users are only allowed provide the following personal information on Zeles VMS:
Name, email address, mobile number, year of birth, education level
Optional information: home telephone, address, causes interested, skills
These are basic details that are required by most volunteer organisations before any volunteer can join an activity
In summary, Zeles VMS only collects information that is necessary for users to join volunteer activities, and the access and use of such information is strictly controlled.